Largest Solar Kit - 1140 Watts - AE-6
The 1140 Watts Go Power Solar RV Kit is the most powerful and easy to install solar kit available. The Solar-AE kit provides 1140 watts of solar charging power to your battery banks. Ideally for those who need to fuel their power-hungry appliances off-grid. The AE-6 (GP-SOLAR-AE-6) is designed to deliver large amounts of DC solar charging for systems with high draw loads, such as recreational vehicles, boats or off grid cottages using all electric residential refrigerators.
Specifications: Charge 12 volt, 24 volt, and 48 volt battery banks
The AE-6 is a powerful rv solar array with over a kilowatt of solar. 1140 watts of RV solar for running residential refrigerators
Eliminates the need for conventional battery charging because of array size
Great for systems with all-electric residential fridges in RVs
Simple installation with easy to follow instructions
Includes all components to complete the installation
25 year solar panel warranty
Panel Size in RV Solar Kit  58.3 x 26.5 x 1.4"  24.5lbs 
Charge up to 60amps DC at 12 volts Expandable to add even more power 25 year warranty on solar panels Includes everything needed for most RV and Marine installations:
Six (6) 190 watt solar panels are included in the 1140-Watt Solar All-Electric Kit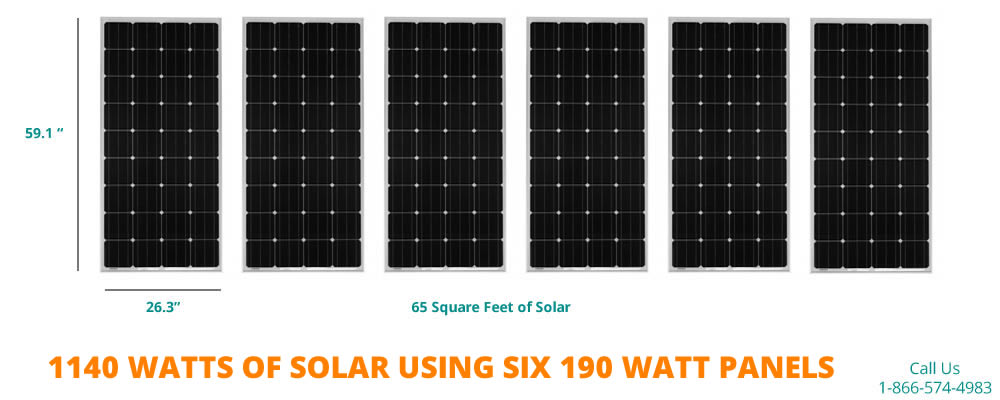 Our largest solar kit! Ideal for larger RV's with large power demands. The all-new Solar AE-6 allows you to charge batteries when large draws are present.  
The Solar AE-6 Kit Includes:
6- 190 watt solar panels (1140 watts / 55.8 amps)
2- 60 amp Go Power MPPT Pro Solar Controller (sync'd together)
MPPT Digital Remote Display
25′ of MC4 output cable – RED (#10)
25′ of MC4 output cable – BLACK (#10)
Mounting hardware
The answer to your off-grid refrigerator might just be the Go Power AE-6 kit
Refrigerators in Class A, Class B and Fifth Wheels have gone to residential types. These residentials types will not runn off of your battery bank alone. You need an inverter, a large battery abnk and solar panels to operate seamlessly. A generator on board is always a good choice as well.
Go Power AE-6 Solar Kit
Designed for refrigerators and larger loads
More power from the sun for faster recharge times
Just add a battery bank of 500 to 1000 amp hours, and this kit will usually support your fridge off-grid. There will always be low light weeks where a short generator run or plugin will kepp you going. The AE-6 has the power to keep it charging and running. The six in the name is for 6 solar panels.
A few 250 Amp hour lithiums can really store power on the go
Large RV 250 Ah lithium battery that is designed to operate at 12 volts
Go Power 250 Ah Lithium Battery
Go Power quality in a large amp hour 250 lithium battery