The 1140 Watts Go Power Solar RV Kit is the most powerful and easy to install solar kit available. The Solar-AE kit provides 1140 watts of solar charging power to your battery banks. Ideally for those who need to fuel their power-hungry appliances off-grid. The AE-6 (GP-SOLAR-AE-6) is designed to deliver large amounts of DC solar charging for systems with high draw loads, such as recreational vehicles, boats or off grid cottages using all electric residential refrigerators.
Specifications: Charge 12 volt, 24 volt, and 48 volt battery banks
1140 watts of RV solar for running residential refrigerators
Eliminates the need for conventional battery charging because of array size
Great for systems with all-electric residential fridges in RVs
Simple installation with easy to follow instructions
Includes all components to complete the installation
25 year solar panel warranty
Panel Size in RV Solar Kit 58.3 x 26.5 x 1.4" 24.5lbs
Charge up to 60amps DC at 12 volts Expandable to add even more power 25 year warranty on solar panels Includes everything needed for most RV and Marine installations:
Six (6) 190 watt solar panels are included in the 1140-Watt Solar All-Electric Kit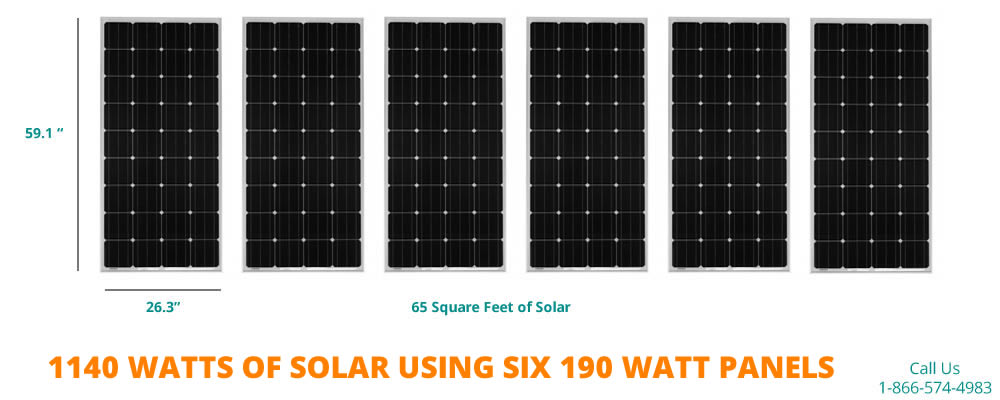 Our largest solar kit! Ideal for larger RV's with large power demands. The all-new Solar AE-6 allows you to charge batteries when large draws are present.
The Solar AE-6 kit comes with a 25 year limited power output warranty.
1140 watts / 55.8 amps solar charging kit
2x 60-amp Go Power MPPT Pro Solar Controller (sync'd together)
MPPT Digital Remote Display
25′ of MC4 output cable – RED (#10)
25′ of MC4 output cable – BLACK (#10)
Mounting hardware (6 x GP-MH-4-KB)
25-year solar module power output warranty
AE-6 : 1140 WATT SOLAR ALL ELECTRIC KIT WITH MPPT – SOLAR ONLY
$ 3199.99
SOLAR-AE-6: 1140 WATT SOLAR ALL ELECTRIC KIT WITH MPPT – SOLAR ONLY
Still have more questions, request a custom RV solar quote
If you have questions and need information on a solar system for your RV. Give us a call at 1-866-574-4983 or fill out the form below and you will be contacted by one of our staff ready to build a system to meet your needs.
Batteries to increase your RV's house battery bank
You may also be interested in looking at the newer lithium batteries that are available for purchase on our our store.
Learn more about RV solar
Have information or tip on how you found your solar prewired cables, fill out the form below.
Learn about adding solar to your RV