My Fifth Wheel Camper Came Prewired With Solar on the Roof and Side Now What
A lot of people ask the question of what exactly does it mean to have pre-wire done on the roof of a 5th wheel and they also ask just as to what it means to also have Solar on the side as well.
When you look at most larger fifth-wheel campers, today they are coming in a configuration more geared toward boondocking camping off-grid. A lot of these trailers will have on-board generator and also the pre-wired solar ports.
FIFTH WHEEL PREWIRED SOLAR WIRING SAVES A LOT OF THE WORK OF INSTALLATION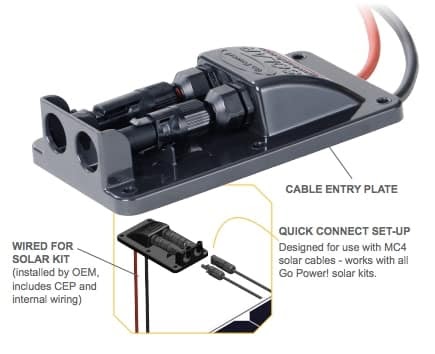 The cable entry plate that is used on many fifth wheel roofs to prewired the unit for solar.
The pre-wired solar on the roof is designed to do one of the most troublesome parts of adding solar to your fifth wheel, and that is wiring the cable from the roof down into the RV to where the charge controller resides.
What manufacturers have done is to install the Go Power cable entry plate in many cases to bring a quick connect MC for type connection from the roof down to the back where a charge controller will be placed. This location is often marked with a sticker that looks like charge controllers. There will usually be two sets of wires, one for the array and another for the battery connection. Connecting the charge controller to both the array wires and the battery wires minimizes how much additional wiring needs to be done inside of the walls of the RV. Many fifth-wheel trailer owners will install between 380 and 1500 watts of solar panels for battery charging.
The port on the side is for additional solar once the roof is full. The solar on the side port is excellent for adding a portable panel when you need to get a little extra power in certain areas. I usually recommend that people feel the roof on a fifth wheel first with solar because it always works and it does not need to be put out. But if you need more power when camping under trees and are able to get a little further away from the camper a portable solar panel like to go power 200-watt portable is always a great choice.
Some times it is necessary to customize the different solar kits with additional wiring to match your specific camper's requirements. Let us know if you will need a varied solar panel layout.
Finding lost prewired solar wires
It is very frustrating to find cables that are in an RV that was prewired at the factory, but the locating stickers were removed.
A few tips are look for pictures of your RV on the internet as they often have these stickers still installed in videos and diagrams. Another is to use a tool to search for the cables. These scopes can really help with lots of projects like this and aare a great tool to have around.
Interview with off-grid RVer in Fifth Wheel Camper
Enjoy our podcast about camping off-grid.
There is also a podcast we did about how much solar you might need for your RV.
A few extra items that are often need for solar installation on fifth wheel camper
There are always extra items that mey need to be purchased when trying to install an RV solar kit in your Fifth Wheel. Dicor is a common brand people use on their RV roofs when installing. Follow the manufacturers suggestions and instructions. Make sure your fifth wheels roof is compatible with whatever type of sealant you choose. Remember that water is your enemy.
You will often use more sealant than you think and it is always good to have a little extra around to reseal roof yearly.
Also make sure to follow manfactuirers instructions for installing panels on your fifth wheel. Read manual a couple times before attempting install.